Case Study
April 2017
First Things
Integrated Marketing
Insightful campaigning powers unprecedented growth.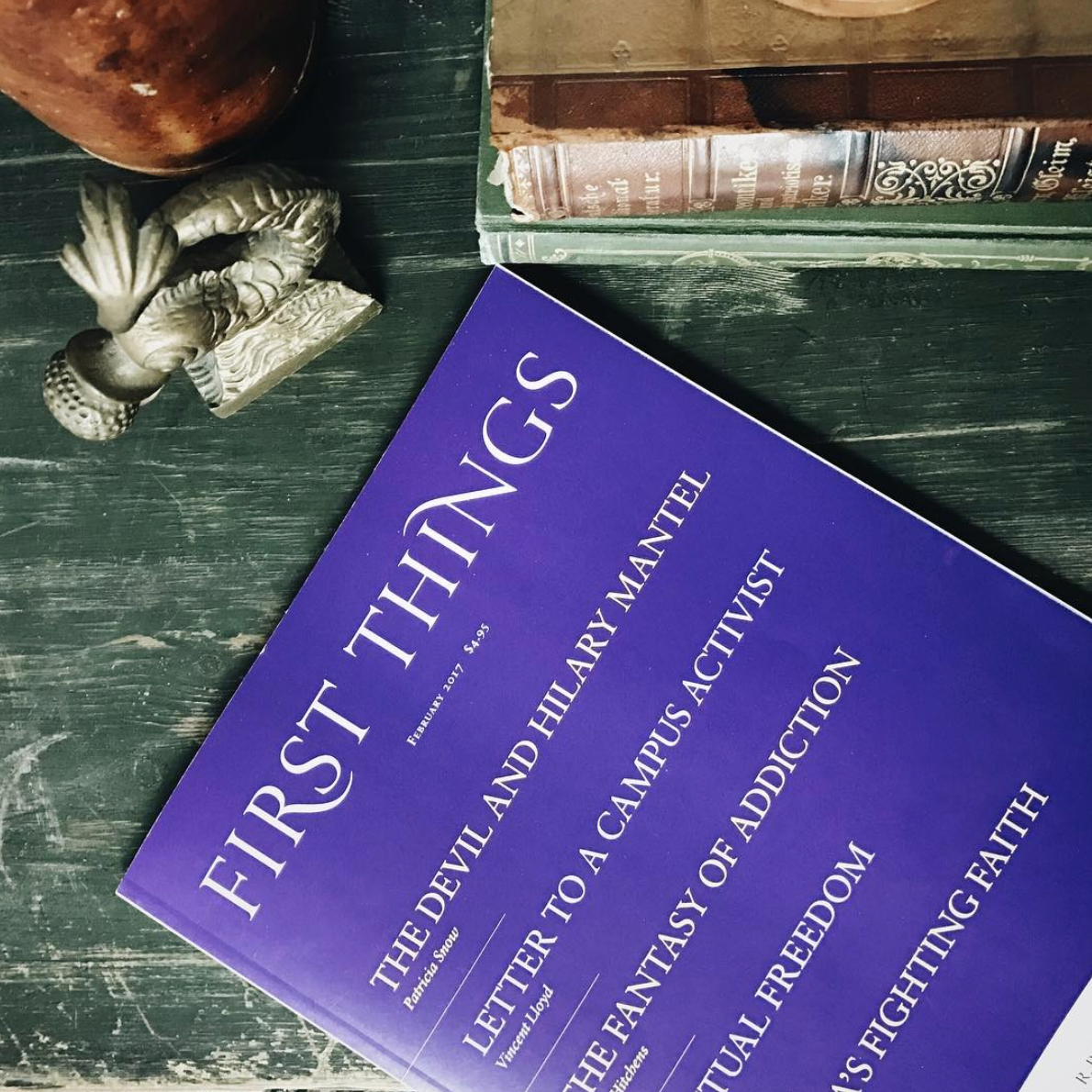 First Things is a non-profit publication that explores and addresses issues at the intersection of faith and culture. Beck & Stone has been working with First Things for four years on various initiatives such as the design of their website and the development of their brand. This active relationship was instrumental in dramatically broadening the brand's audience, powered by social media and a burgeoning email list.
"The audience grew in demographics and usage habits that were very different from the print readers of the past twenty years," says Austin Stone of Beck & Stone. "Key metrics were up across the board: page views, unique visits, mentions, reach… but for a traditional publication, subscriptions are the goal."
2016 was the year to expand First Things' base of paying subscribers; advertising to a new and mostly untapped segment of online users.
Strategy derived from data.
A well-informed long-term strategy and an actionable short-term plan are necessities for successful customer acquisition campaigns. As their embedded brand manager, Stone worked in close liaison with First Things to ensure that data was meticulously gathered over the years of audience building from the various online channels.
Analyzing this data, Stone recognized one crucial fact: First Things could not afford to lose money with no return. Meaning any campaign must be centered on an optimal acquisition cost per subscriber. The publication had conducted a direct mail campaign with an outside vendor which offered potential subscribers an introductory subscription for $19.95—nearly half off the regular price. Stone theorized that with First Things' large online presence, this same campaign would prove even more effective if distributed through digital channels like FirstThings.com, email, and through social media.
Opportunistic marketing made possible by a nimble agency partner.
Strategic planning is important, yet the ability to quickly optimize the tactics—reacting to minimize losses or take advantage of real-time events is often overlooked. This valuable flexibility was made possible by Beck & Stone's embedded micro-agency relationship with First Things. Analytics informed decision makers who would direct the team on adjusting the creative or targeting.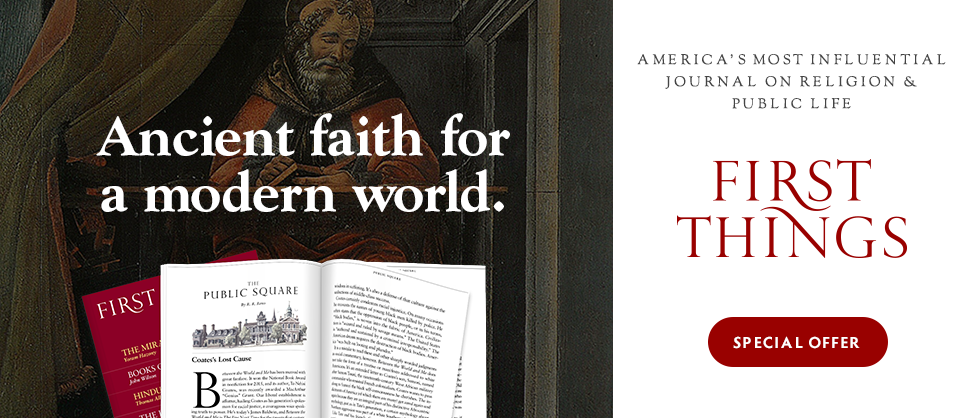 Branded social content, display and email campaigns, and baked-in website prompts were used to pique the curiosity of online followers. Driving this now qualified traffic to redesigned landing pages which were rigorously A/B tested and regularly updated for the best results, persuaded users to take the "next step" with First Things.
Printed deliverables such as flyers at events and full-page ads in relevant publications targeted the immediate network of likely subscribers.
Though the strategy remained consistent, Beck & Stone's agency model allows for flexibility in optimizing even an integrated campaign at key moments.
"Marketing online heavily depends on timing. A brand manager embedded on the client side and an integrated agency team enables us to react intelligently to complications or opportunities."

Austin Stone
Livestreaming an influencer to tap into a niche following.
A key moment in the campaign came at First Things' Annual Erasmus Lecture, a "State of the Union" for religious intellectuals. In 2016, with Dr. Russell D. Moore as the speaker and a lightning rod topic of "Can the Religious Right be Saved?" First Things wanted to extend awareness of the presentation to an audience beyond the 200 in attendance in New York City.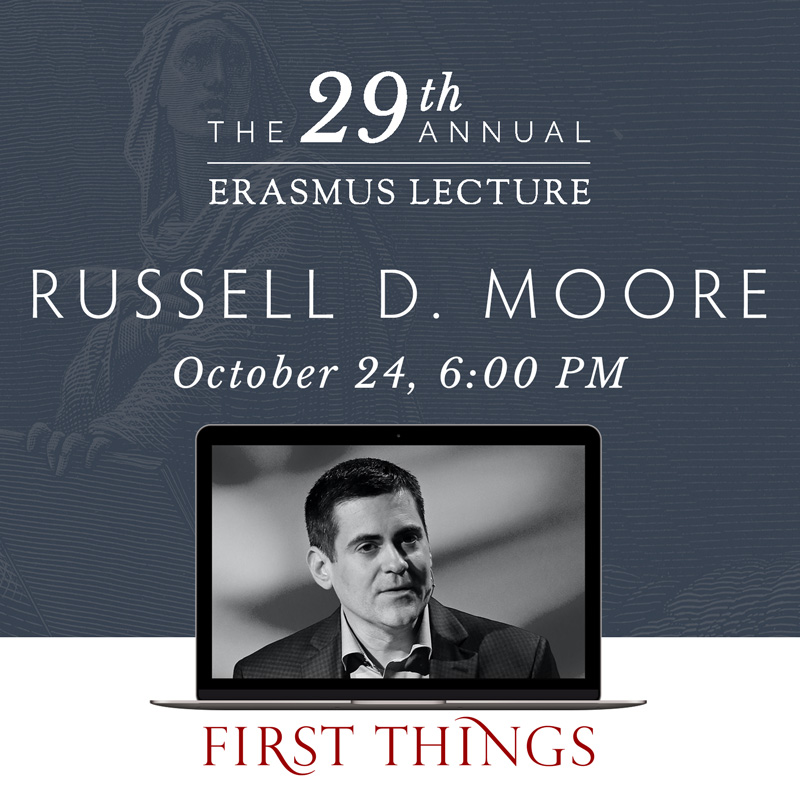 Beck & Stone saw an opportunity and livestreamed the lecture from the First Things Facebook page and firstthings.com, publicizing it in advance via social media and email RSVPs. "Social reach was of course, an important metric," recalls Stone. "But being in the middle of a marketing campaign, we thought: why pause the campaign for the lecture when we can use the lecture to capture new subscribers?"
Using highly shareable quotes by Dr. Moore and photos from the event itself, Beck & Stone pushed branded content to social media, linking the livestream to a promotional offer to subscribe to First Things.
"The speaker's following was largely outside of First Things' sphere," Stone explains. "So we had this two-hour stretch of time to tap into his audience."
Over 1,000 viewers of the livestream combined with thousands of social interactions yielded close to 800 new followers and almost 100 new subscriptions to First Things.
Success by the numbers.
Beck & Stone began marketing First Things to online audiences in February of 2016. Within a year, First Things reported 2,173 new subscribers thanks to marketing of the introductory offer online. After five months of marketing, First Things broke even and Beck & Stone's services paid for itself. The remainder of Beck & Stone's yearlong marketing efforts led to a decrease in the cost of logistics for the publication and helped offset the deficit of offering subscriptions at a lower price point.
Thanks to Beck & Stone's proactive approach to client relationships and the company's talented multidisciplinary staff, First Things proves that traditional publications cannot only just survive, but in fact, thrive in the digital age.